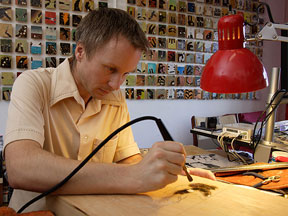 photo: coop
Stephen Anderson was born and raised in Southern California and has been creating artwork professionally since graduating from Cal State University Long Beach with a B.F.A. in Drawing & Painting / Intermedia in 1993. He was the Executive Director for the Orange County Center for Contemporary Art (OCCCA) for eight years and is the Visual Arts Coordinator at the OC Fair & Event Center.
Anderson has received numerous accolades for his art and has been in several publications, and he has shown extensively across the United States and overseas. Notable exhibitions include: By Any Means UnNecessary, Mission 17 Gallery, San Francisco, Ca, Configurations, artSPACE@16, Malden, MA, Too Much Freedom? LA Freewaves 10th Celebration of Experimental Media Arts, Hammer Museum, Artifornia, Sciorum Gallery, Milan, Italy, MONA@30, The Museum of Neon Art, Los Angeles, Reconstructive Visions of the Future, VALISE Gallery, Vashon, WA, Happy Medium, Orange County Center for Contemporary Art, Santa Ana CA, Pulp Art, Hale Art Space, Santa Monica, CA, Combines, bG Gallery at Bergamot Station, Santa Monica, CA, LA Art Show, Los Angeles Convention Center, SCOPE Miami Beach Pavilion, In Pursuit of Beauty , 3331 Gallery, Tokyo Japan.
Anderson will be in the 38th annual Photographers' Forum Publication, and his artwork has been acquired by the Amore Pacific Museum of Art in South Korea.
http://www.mixedmediaexpressions.com
https://www.facebook.com/MixedMediaExpressions